Give us a call if you have think you may be affected by this or any other virus/scam.
(269) 462-9040

Your Windows Licence has Expired virus removal guide
What is Your Windows Licence has Expired?
"Your Windows Licence has Expired" is a fake error message that attempts to trick users into purchasing a valid activation key. It is distributed via various adware-type applications falsely claiming to provide a number of 'valuable functions'. These applications usually infiltrate systems without users' consent. Furthermore, adware tracks Internet browsing activity and generates intrusive online advertisements.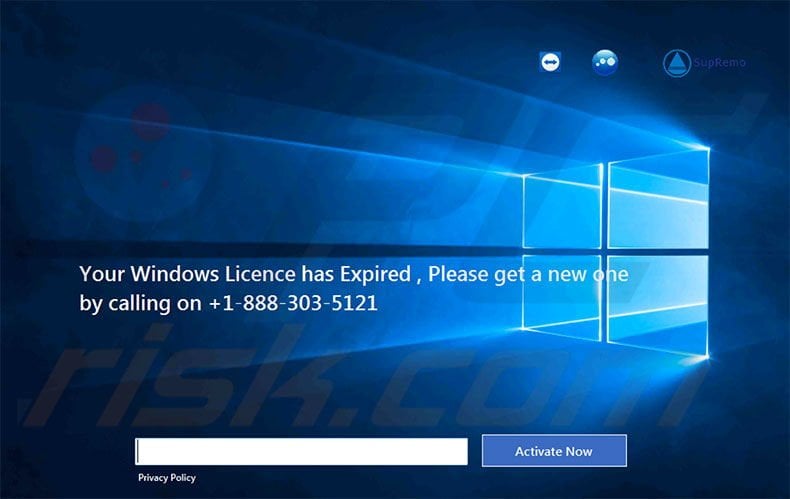 This fake error message locks computer screens and encourages users to call the telephone number provided (+1-888-303-5121). Victims are then be asked to purchase a genuine Windows activation key, however, this error message is a scam – developers attempt to trick users into buying the key and solving a problem that does not exist. All claims regarding expired versions are false and paying will not deliver any positive results – you will simply support developers' malicious businesses and lose your money. Furthermore, adware-type apps that promote this scam often display intrusive online advertisements that conceal underlying content of users' visited websites. Furthermore, some redirect to malicious websites – clicking them is risky and can result in further computer infections. In addition, adware records various data relating to users' Internet browsing activity including IP addresses, website URLs visited, pages viewed, and search queries. This information might be personally identifiable and shared with third parties who often misuse it to generate revenue. Data tracking can lead to serious privacy issues or even identity theft. Therefore, if you encounter "Your Windows Licence has Expired" error message, ignore all requests to contact/pay and immediately uninstall all suspicious applications.
There are hundreds of adware-type applications – all very similar. For example, that apps such as CurveLayer, USB Locker, BrowsingGuard, etc. offer different functions, however, all have similar behavior. These applications are designed only to generate revenue for the developers. Adware generates intrusive online ads (via the "Pay Per Click" advertising model), causes unwanted browser redirects (to generate traffic for various sites), and collects personally identifiable information (which is later sold to third parties). All claims to enhance the web browsing experience are attempts to give the impression of legitimacy.
How did Your Windows Licence has Expired install on my computer?
Adware-type applications are usually distributed using a deceptive marketing method called "bundling" – stealth installation of potentially unwanted programs with regular software. Research shows that users often rush the download/installation processes and skip most steps. Aware of this, developers intentionally hide bundled programs within the "Custom/Advanced" settings of these procedures. By skipping this section, users expose their systems to risk of various infections. Note that developers' revenue is dependent on the number of distributed adware and, therefore, these installation are never properly disclosed.
How to avoid installation of potentially unwanted applications?
Be aware that potentially unwanted programs are often distributed using the bundling method. Therefore, analyze each step of the download and installation processes. Furthermore, all offers to download/install additional applications must be declined. Bundled software is often rogue and should never be installed.
Victims of this scam can enter this code – 8716098676542789 to unlock their computers for free. No need of calling the cyber criminals behind this scam.
Give us a call if you have think you may be affected by this or any other virus/scam.